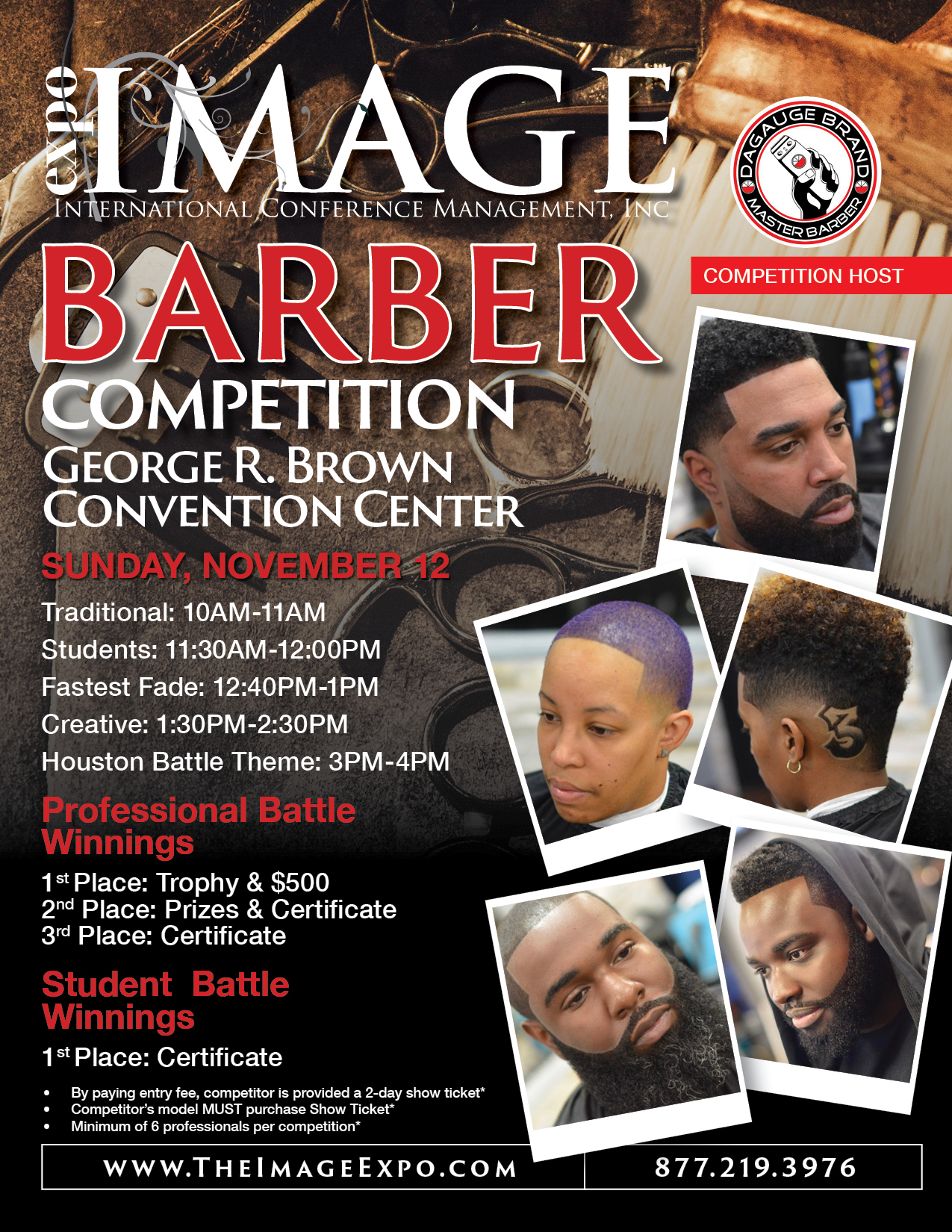 2023 IMAGE Expo Barber Competition
Sunday, November 12th 
Traditional: 10AM-11AM

This competition consists of barbers competing with everyday styles. Models may not be pre- cut or pre-colored, including line ups and shape ups. Competitors will have 45 minutes to complete the entire cut. Color is allowed. Barbers will be judged on blend of fade, line ups, and overall cleanliness of the cut.

Each competitor has 45 minutes to complete and will be judged and scored on the following:

• Difficulty of cut/Hair texture (10pts)
• Outline/Edge-up (10pts)
• Styling Techniques (10pts)
• Precision of Blend (10pts)
• Professionalism (Appearance of tools, sanitation, etc) (5pts)
• Total look of model when completed (5pts) HIGHEST POSSIBLE TOTAL POINTS: (50pts)

Students: 11:30AM-12:00PM
This competition consists of students/ apprentice barbers. Students are allowed to showcase their skills with traditional cuts. Hair may not be pre-cut or pre-colored. Beards are allowed. This competition is 45 minutes long. Barbers will be judged on blend of fade, accurate line, and overall cleanliness of the cut
Each competitor has 35 minutes to complete and will be judged and scored on the following:
• Difficulty of cut/Hair texture (10pts)
• Outline/Edge-up (10pts)
• Styling Techniques (10pts)
• Precision of Blend (10pts )
• Professionalism (Appearance of tools, sanitation, etc) (5pts)
• Total look of model when completed (5pts) HIGHEST POSSIBLE TOTAL POINTS: (50pts)

Fastest Fade: 12:40PM-1PM
This competition is focused on accuracy and speed. Competitors have 15 minutes to do their best work. Models may not be pre-cut, including line ups. Hair must be cut to no lower than 1 ½ on top to bald on the sides. Barbers will be judged on speed, blend of fade, line ups, and overall cleanliness.

Each competitor has 15 minutes to complete and will be judged and scored on the following:

• Difficulty of cut/Hair texture (10pts)
• Outline/Edge-up (10pts)
• Precision of blend (10pts)
• Speed/Techniques (10pts)
• Professionalism (Appearance of tools, sanitation, etc) (5pts)
• Total look of model when completed (5pts) HIGHEST POSSIBLE TOTAL POINTS: (50pts)

Creative: 1:30PM-2:30PM
This is where we want to see your creativity, you are able to use color, color enhancements, designs, there are NO rules holding you back on using your imagination. Make sure your model dresses the part of the haircut. Each competitor has 50 minutes to complete and will be judged and scored on the following:

• Degree of difficulty of work performed on stage (10pts)
• Outline/Edge-up (10pts)
• Precision of blend (5pts)
• Precision of letters and or design (5pts)
• Originality (10pts)
• Professionalism (Appearance of tools, sanitation, etc) (5pts)
• Total look of model when completed (5pts) HIGHEST POSSIBLE TOTAL POINTS: (50pts)

Houston Battle Theme: 3PM-4PM
Houston Theme Design
Professional Battle Winnings
1st Place: Trophy & $500 2nd Place: Prizes & Certificate 3rd Place: Certificate
All Professional Battles are $100 Entry Fee, and the Student Battle is $50 Entry Fee
Overall Competition Rules:
All contestants must bring a live model and barbering tools to participate in competition. The competition fee includes a one-day exhibit hall entry for the competitor. Models will need to purchase show ticket.
All models' hair must be cut at competition. Competitor is not allowed to cut, trim, shape or preset model's hair before the competition begins. Semi-permanent color, permanent color, light color sprays and chalks are NOT allowed unless otherwise noted. Barber must show a transformation of the model's hair. The judges will inspect model's hair during pre-judging or during check-in. Violation of this rule will result in the deduction of points and/or disqualification from competition.
All contestants must check in at the competition stage.
All contestants will have a specific time to complete their cut and style. Judging will be conducted on a visual basis only. Judges will use a point system on a scale of one (lowest possible score) to ten (highest possible score). If there is a tie in a category or prize placement, the judges will determine the final winner.